The district of Shinjuku is probably what you envision when you think of Tokyo's towering skyscrapers. While much of central Tokyo has tall buildings, Shinjuku's are among the tallest and most iconic in the city.
Shinjuku is one of the more commercial districts along the Yamanote line, but that doesn't mean there isn't much for you to do! Shinjuku Gyoen National Park, the Tokyo Metropolitan Government building and the hundreds of eateries in the area around the station should be on your must-see list!
Pro Tip: Shinjuku station is one of the busiest stations in the world and there are easily over 200 exits! Make sure you know your exact exit or transfer location, otherwise you may get lost in the maze of tunnels. For first-timers, you should give yourself at least 20 minutes in transfer time!
How do you get to Shinjuku?
Shinjuku Station is notoriously huge and holds the title of the world's busiest train station. Lines that stop at Shinjuku Station include:
The JR Chuo Line
The JR Sobu Line
The JR Saikyo Line
The JR Yamanote Line
The JR Shonan-Shinjuku Line
The Keio Line
The Keio New Line
The Odakyu Odawara Line
The Toei Oedo Line
The Toei Shinjuku Line
The Marunouchi Line
This means that JR Shinjuku Station and its adjoining subways are a huge hotspot for transfers. While the trains are running, there are literally thousands of people in the station at any given time. The station was used by an average of 3.6 million people per day in 2007 if that gives you an idea!
But don't be worried. The station is manned by hundreds of staff and the signage is remarkably well-done. As long as you know your intended destination, you shouldn't have any problems!
Just a short walk from Shinjuku Station is the Seibu-Shinjuku Line terminal station. The nearby Shinjuku-Sanchome Station is served by the Fukutoshin Line. If you come into one of these stations, it won't be hard to find Shinjuku Station. If you get lost, just ask!
What are the best things to do in Shinjuku?
Most popular tourist attractions are within walking distance and while Shinjuku is most famous for its neon lights, izakaya's, bars, love hotels, and nighttime activities, there are plenty of things to do during the day to keep you occupied.

Find a bargain at the Shinjuku Central Park Flea Market
Right below the Metropolitan Government Building is Shinjuku Central Park. If you happen to spot a lot of booths from the tower, you'll know the flea market is definitely open. Otherwise, you can check out their website's calendar, but please note that most information is only in Japanese.
If you enjoy shopping or garage sales, this will definitely be your jam. There's usually a wide variety of items. You might find vintage china sets or handmade goods or perhaps even some niche fashion items available at a bargain price. Japan isn't too fond of haggling though, so don't drive too hard a bargain!
Sample the flavors of Omoide Yokocho
Just a minute walk from both the East and West exits of Shinjuku Station, Omoide Yokocho is a must for any stopover in Shinjuku lasting more than an hour. This narrow laneway packed with tiny bars and hole-in-the-wall eateries has the hilarious nickname of Piss Alley but for the more romanticly inclined it's also called Memory Lane. It was almost completely devastated in World War II, but they rebuilt in the historic fashion – that is, super densely packed!
Food is the predominant feature of the alley. You'll find chicken skewers shops, Japanese pubs, grilled meat, soba noodles, ramen, and coffee shops among the many offerings. I highly recommend grabbing a bite!
Raise your glass in Kabukicho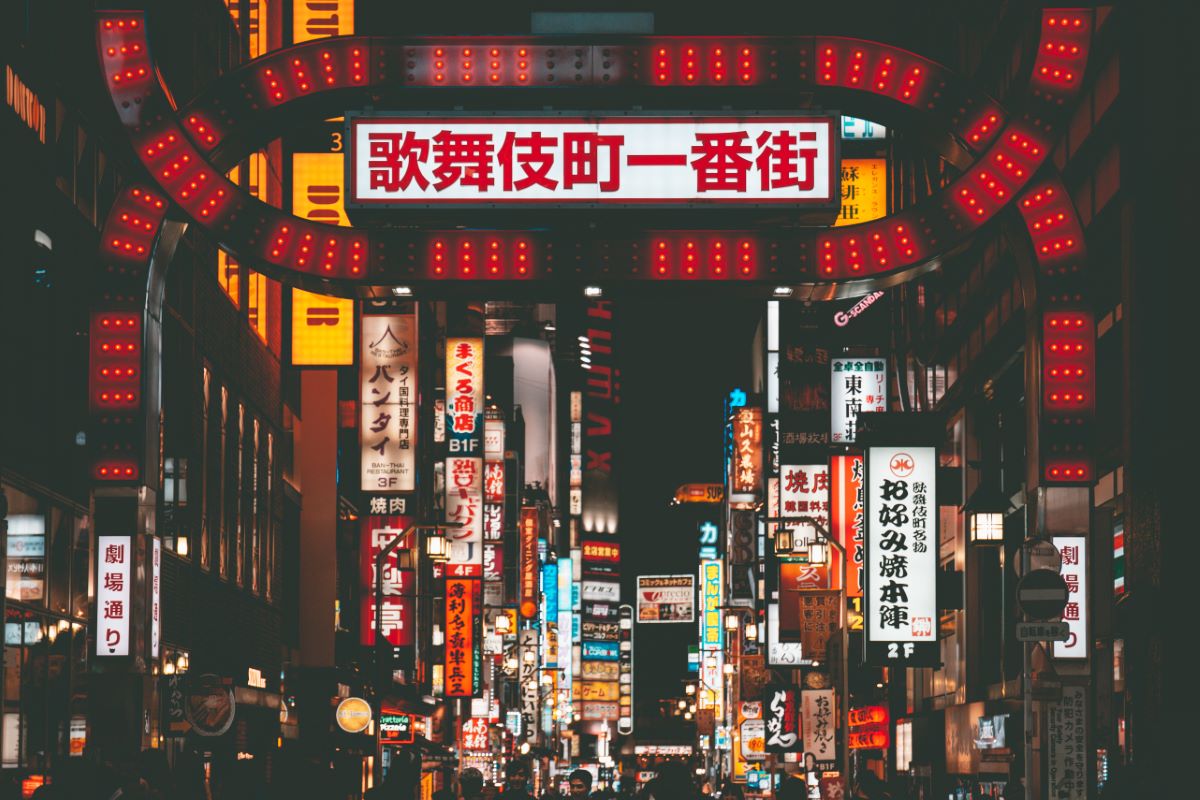 For better or worse, the red light district of Kabukicho is considered to be largely run by the yakuza. It's definitely true that there are some shady places in the area, but most establishments are safe.
This entertainment district's proximity to Shinjuku Station means there are plenty of bars to choose from! The prices are usually pretty reasonable too, since the pubs are hit by workers on their way home from a hard day at work.
Just don't let yourself be lured in by the salespeople holding menus outside and perhaps you should avoid the host and hostess bars. As a foreigner, they may try to get you to agree to purchase some very expensive items.
I spy with my little eye…Godzilla?!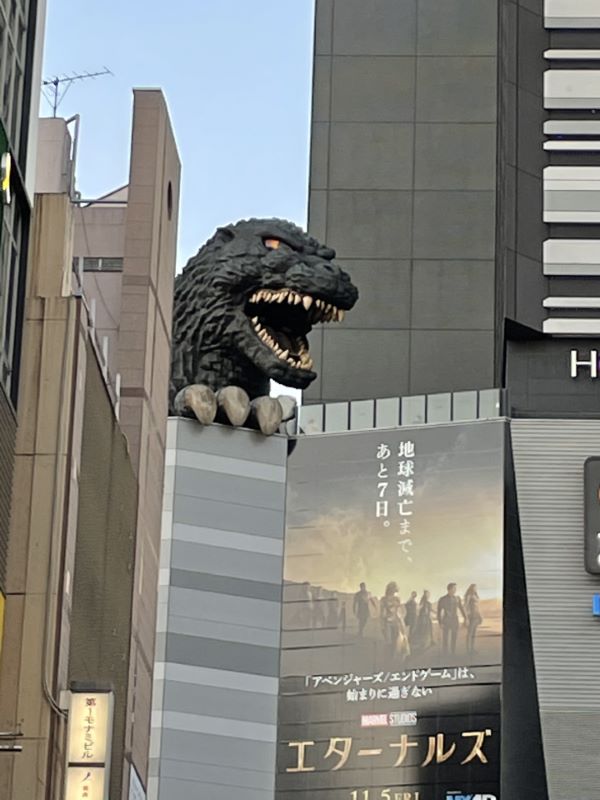 The Godzilla Head at Hotel Gracery Shinjuku. Photo by Daniel Ramirez. Used under CC.
A tourist attraction, hotel, and movie theater rolled into one, this building has quickly become a staple in Shinjuku. Since it opened in 2015, Hotel Gracery has lit up at night with vivid blue lights and an illuminated Godzilla head. Taking selfies with the head is both recommended and encouraged!
If you're looking for something more relaxing to do, you should consider catching a movie in the Toho Cinema below. They always offer movies with English audio and for the language nerds out there, it might be nice to watch a movie with Japanese audio. Movie times are available here.
Stroll through the Shinjuku Gyoen National Garden
Smack in the middle of Shinjuku is the Shinjuku Gyoen National Garden. This wide swath of green space and Japanese gardens can be a visual relief after the monotonous gray of the city.
The Shinjuku Gyoen National garden dates back to the Edo period and was almost completely destroyed during the second world war. Luckily it was rebuilt and opened once again in 1949.
The park is divided into three sections: a Japanese garden, an English-style garden, and a French-style garden. Each has some seasonal offerings, but the park is especially lovely in spring and fall. If you plan to see the cherry blossoms here, make sure to arrive very early if you want a spot!
 There are a few cafes where you can grab a quick snack or a matcha ice cream and there's a great lawn that's a popular picnic spot with great views of Shinjuku's skyline.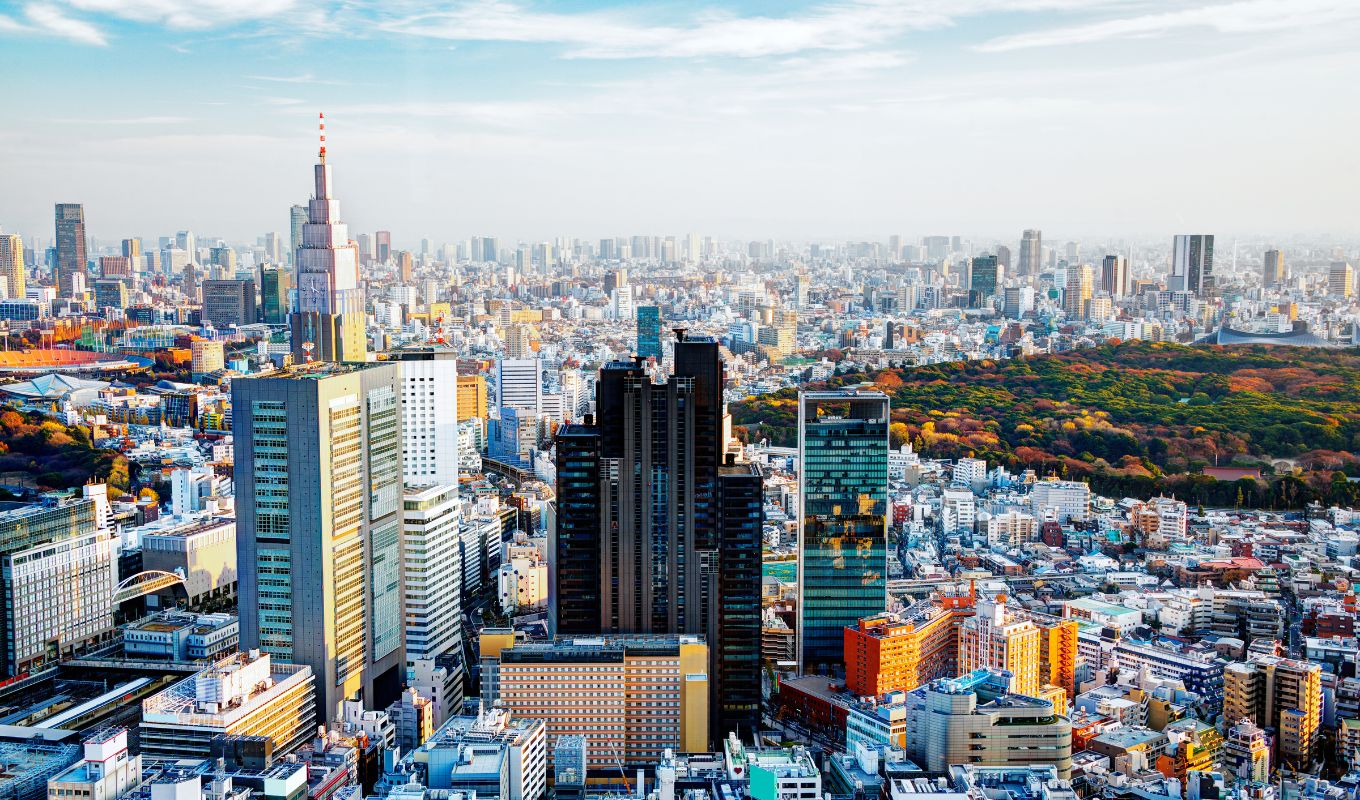 Hours vary on the season, with shorter hours in the winter, and the park is usually closed on Mondays. Check their website for more details.
Read More: Shinjuku Gyoen National Park
Tokyo Metropolitan government building
Just a short walk from Shinjuku Station towards the Gyoen National Garden is the Tokyo Metropolitan Government Building. This skyscraper is iconic to the Tokyo skyline and it was the tallest building in the city until 2007.
Both towers offer free observation decks to visitors. The view is comparable to every other high observatory in Tokyo, including Tokyo Skytree, so this should be at the top of any budget traveler's list. Most major landmarks in Tokyo are visible from the observation deck. On a clear day, you can even see Mount Fuji but for us, the highlight is the endless expanse of Tokyo's high-density buildings that seems to reach the horizon in every direction. There is also a souvenir and coffee shop.
The south tower is open until 5:30, while the north observatory runs until 11 pm and offers great night views.
For directions to the Tokyo metropolitan building, just look up and scan the skyline for a building that looks like it's straight out of Gotham city.
Check Tokyo metropolitan building website for information on closures.
Golden Gai
Golden Gai is a small series of lanes packed with over 200 small bars and eateries. Located close to the Hanazono shrine, it's a popular place for salarymen and career women to nock back after-work drinks. We always seem to have an interesting Shinjuku Golden Gai experience here and it's a must-visit if you are in the Shinjuku area in the evening.
Most of the bars in Golden Gai have their own, often quirky themes and regular customers. Some have karaoke set up, some have unusual decore and some are well known for their signature drinks.
Experience the Eclectic Robot Restaurant
Note: The Famous robot restaurant has closed its doors. its former location has now changed signage so it is unsure if the iconic stage show will reopen in another location once international travel is back on the menu. We will keep you posted.
If you're looking for a wild performance with a bento-style meal, you should check out the Robot Restaurant. A professional dance troupe practices the complicated, chaotic routine on their days off to bring you a pretty awesome experience.
Sometimes the scandalously clad women are riding robots. Other times they're engaging in epic battles. Next, they might be slaying an oversized snake. The aesthetic is a crazy mix of bright neon, 80s futuristic robots, and traditional Japanese design.
Just expect more performance than food and you should be happy! Reservations can be made here.
The Samurai Museum
If you want to learn more about Japan's fascinating samurai culture, or just dress up like one, the samurai museum offers an enjoyable tour of all things Samurai.
Where to Shop in Shinjuku Tokyo?
Shinjuku is the home to most major Japanese department stores and you can shop till late with most retail stores open until 9 or 10 pm. These stores usually sell high-end brands. Most have a luxury grocery market in their basement (to keep the food cool).
You'll easily find Lumine, Takashimaya, Odakyu, Marui, Isetan, Seibu, and Keio Department Stores represented in the area surrounding Shinjuku Station. If you noticed that some of the names are similar to train line names, you're correct! The Odakyu, Keio, and Seibu companies also own private railways in Japan.
Something to note: Tokyu Hands, known for their hobby and DIY supplies, has their Shinjuku branch inside the Takashimaya department store.
Enjoy shopping in Japan's most influential and iconic department store: Isetan Shinjuku
If you want to experience world-class trendsetting shopping, Isetan's Flagship store in Shinjuku Tokyo is the premier destination to visit. Out of all the department stores in Japan, Isetan Shinjuku holds the distinction of having the highest amount of sales on an annual basis.
Isetan Shinjuku is the flagship store of the Isetan Mitsukoshi Group, one of the largest department store groups in the country. The main building was constructed in 1933 and it's original Gothic and Art Deco style architecture still remains preserved today.
Don't Forget: Before you enter, take some time to admire the intricate details of the building's architecture and its rich history.
In 2013, the building underwent remodeling and modernized its approach to merchandising and curating. Redefining itself as the "World's Best Fashion Museum", Isetan Shinjuku elegantly combines art, fashion, and beauty to create the most mesmerizing, creative, and eye-catching displays. For many fashionistas and trendsetters from all over the world, the visual displays at Isetan Shinjuku is a must-see attraction.
Isetan Shinjuku is an all-genre department store as it considers clothing, food, and shelter to be all part of fashion. In addition to clothing, you can find household goods, stationery, kitchen, and bedding accessories on the 5th floor of the main building. As a callback to the department store's origin as a Kimono shop in 1886, there is an extensive selection of Kimono offerings and goods.
This department store is separated into two buildings: the Main building, which focuses on Women's fashion and the Men's building. The buildings are connected via passageways, which are found on the First Basement Floor (B1F), 3rd floor and 6th floor.
What we love about Isetan Shinjuku the most is their depachika, which are heavenly food halls found in the basements of department stores.
Pro Tip: The tax refund counters are located on the Second Basement Floor (B2F) of the Main Building and the 6th Floor of the Main Building. You can also apply for a free guest card that offers foreign visitors 5% of their total purchase:
Website: https://isetan.mistore.jp/store/shinjuku/foreign_customer/index.html
Link for Guest Card Application: https://isetan.mistore.jp/store/shinjuku/foreign_customer_service/guestcard/index.html
Address: 3-chōme-14-1 Shinjuku, Shinjuku City, Tōkyō-to 160-0022, Japan
Hours: Daily from 10:00 am to 8:00 pm
Electronic Stores
Yodobashi Camera, Bic Camera, and Yamada Denki all have branches in Shinjuku. Each chain is competing against each other around the station, so you'll probably find multiple branches in every direction.
Something to note: Bic Camera and the clothing chain, Uniqlo, have a partnered store called Bicqlo. If you want a one-stop shop with clothes and electronics, this is your ideal store!
Clothing Stores
You'll find the highest concentration of clothing stores near Shinjuku Station's South East Exit. In addition to many different unique and higher-end brands, there are also Gap, Forever 21, H&M, Uniqlo, and Zara branches.
Other Specialty Shops
In addition to the categories above, Shinjuku is also home to a variety of specialty shops. Sporting goods shops include brands like Montbell, Adidas, and Fjallraven. There's a large Don Quiote branch, home to all sorts of affordable quirky items.
For otaku, there are a couple Animate stores as well as several bookstores like Kinokuniya. If you're looking for secondhand goods, there's also a BookOff.
Pro Tip: if you're looking for books in English, the Kinokuniya in Shinjuku has a decent English selection. You can also find a good number of English books in the nearby BookOff branches.
Where do I stay in Shinjuku?
The Shinjuku area isn't known for being cheap. While the area has lots of midrange and higher end hotels, there are only a couple decent hostels within walking distance of the train station.
IMANO TOKYO HOSTEL
Right on the edge of Kabukicho is IMANO TOKYO HOSTEL. If you avoid the underground labyrinth of tunnels, the walk is about 12 minutes from Shinjuku Station's East Exit. The building is designed with a trendy no-frills style that helps keep your bed costs down.
They boast a café and bar that's open to the public, which could be a great breakfast option for you!
Address: 12-2, Shinjuku 5-Chome. Shinjuku-ku, Tokyo
Phone: +81 (0)3 5362-7161
For more information, check out their website!
UNPLAN Shinjuku
Just a short walk from Shinjuku-Sanchome and Shinjuku Gyoen is the bright and stylish UNPLAN Shinjuku. Their beds are primarily capsule-style bunks which offer more privacy than traditional hostel beds. The location is great if you're looking to enjoy Shinjuku's nightlife offerings!
Address: 5-3-15 Shinjuku, Shinjuku-ku, Tokyo
Phone: +81 (0)3 6384-1297
For more information, check out their website!
Hotel Gracery Shinjuku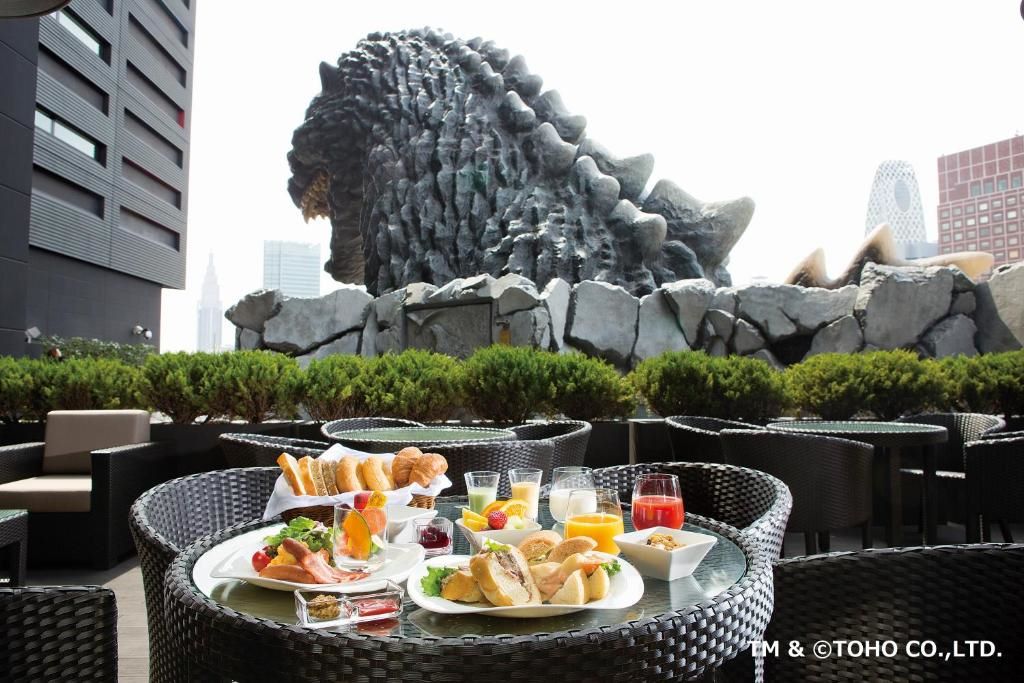 In the heart of Kabukicho lies Hotel Gracery, home to the Shinjuku Toho Cinema and the famous Godzilla head. The hotel is quite new and the iconic blue lights at night will make it easy to find as you wander the streets of Shinjuku.
They even offer a Godzilla-view room!
Address: 1-19-1 Kabukicho, Shinjuku-ku, Tokyo
Phone: +81 (0)3 6833-2489
For more information, check out their website!
Shinjuku Granbell Hotel
If high-end is more your style, look no further than the Shinjuku Granbell Hotel. They offer some pretty awesome rooms, including a 60 square meter suite with marble floors. It's also in Kabukicho, so Shinjuku's nightlife will be right outside your door.
Address: 2-14 Kabukicho, Shinjuku-ku, Tokyo
Phone: +81 (0)3 5155-2666
For more information, check out their website!
Keio Plaza Hotel Tokyo Shinjuku
The Keio Plaza Hotel in Shinjuku is a luxury hotel that's famous in the Tokyo expat community for an interesting reason – in August, it's temporarily the home base of newly arrived JET Program participants. And you can see why! It offers stunning views of Tokyo and offers great access to the rest of Japan.
It's also just two blocks from the Tokyo Metropolitan Government Building!
Address: 2-2-1 Nishi-Shinjuku, Shinjuku-Ku, Tokyo
Phone: +81 (0)3 3344-0111
For more information, check out their website!
Park Hyatt Tokyo Shinjuku
The Park Hyatt in Shinjuku is truly a five-star hotel. Each room is meticulously designed and the hotel offers some stunning views of the Tokyo skyline. I'm sure you won't be disappointed with your stay!
Address: 3-7-1-2 Nishi-Shinjuku, Shinjuku-Ku, Tokyo
Phone: +81 (0)3 5322-1234
For more information, check out their website!
Where do I eat and drink in Shinjuku?
If you're only in Shinjuku for a couple of hours, you should consider just grabbing a bite at a shop along Omoide Yokocho. Rent in Shinjuku is expensive, so you're sure to find something good just about anywhere you go.
But if you're looking for more specific ideas, we've got you covered!
Got a sweet tooth? Try Sweets Paradise!
This all-you-can-eat restaurant offers 90 minutes of delicious sugary sweets. They also offer pasta, curry, soup, and sometimes pizza. It's basically carb heaven. Soft drinks are usually included in your ticket too.
They're located right across the street from Shinjuku Station's East Exit!
Address: 3-26-6 Shinjuku, Shinjuku-ku, Tokyo
Phone: +81 (0)3 5925-8876
For more information, check out their website!
Grab a bite of vegan cuisine at AIN SOPH. Ripple!
They offer vegan burgers, soy chicken, falafel, burritos…basically all sorts of delicious fast food! Their menu looks so good that even meat-lovers should give it a glance!
On the northern edge of Kabukicho, they're a bit of a walk from Shinjuku Station but rest assured, the wait is worth it! If you're not into walking though, they're just 1 minute from Shin-Okubo Station of the Yamanote Line.
Address: 2-46-8 Kabukicho, Shinjuku-ku, Tokyo
Phone: +81 (0)3 6380-3205
For more information, check out their website!
Try sardines reimagined at Michelin-starred Nakajima!
Grabbing dinner at Nakajima will cost you a pretty penny, but their lunch prices are very, very reasonable for a Michelin-starred restaurant! Their menu selection focuses on sardines served in very different ways.
They don't recommend bringing children under six years old and picky eaters may not be thrilled with the selection. Regardless, the Michelin Stars and lunch prices under 1000 yen make Nakajima a must-visit!
Address: 3-32-5, Shinjuku, Shinjuku-ku, Tokyo
Phone: +81 (0)3 3356-4534
For more information, check out their website!
Visit The Lost In Translation Bar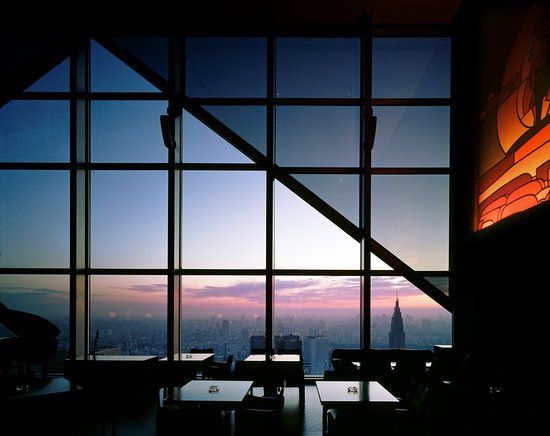 Fans of the cult Lost In Translation movie can visit the exact same bar and have their very own Santory Time. It's called the New York Bar and sit's at the top of the Shinjuku Park Hyatt hotel. It's far from the cheapest place in town but it is also famous for its huge windows that offer an amazing night view over Shinjuku and beyond.